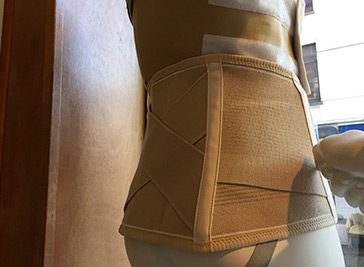 Do you suffer from backache? Do you have lumbago? Does your work require you to carry heavy loads? Are you expecting twins (twin pregnancy)? Do you have a broken bone?
We have solutions to help you.
For your back, we can provide you with made-to-measure corsets with a prescription from your GP.
They are made-to-order by our seamstress.
In 3 steps:
First visit: measurements taken
Second visit: fitting and corrections
Third visit: you leave with your back support belt.
We also have belts for your back of the Thuasne, Bota and Bauerfeind brands as well as abdomen and pregnancy belts.
We will be pleased to take the time with you to try on, measure and choose your lumbar belt.