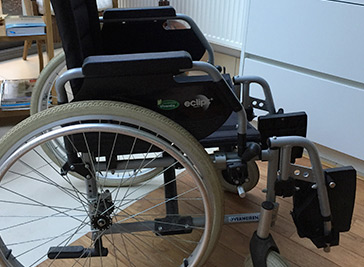 A bad fall, an operation, a broken bone, a grand-parent visiting during the holidays, a return from a hospital stay, or in rehabilitation: you need a wheelchair in these situations.
We can help you!
Rental wheelchairs are available 24 hours a day for adults and children with or without adjustable leg rests.
A new wheelchair will be supplied after agreement from your health insurer by filling a simple form (Annex 19) is completed by your GP.
This form is available from us or your health insurer.
Your chair will be ordered according to your measurements and whether or not you need a pressure relief cushion.
We work with several suppliers such Meyra, Vermeiren, Thuasne, etc.
Our specialist will come to your home to measure the width of your doors and will show you the wheelchair catalogue so that you can choose the chair that suits you.
The cost of your wheelchair will be borne in full by your health insurer.