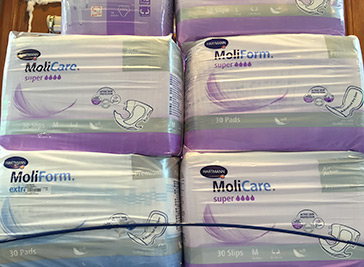 Are you returning home from hospital following surgery on your bladder, your prostate or following a difficult childbirth or rehabilitation, and you are suffering from incontinence?
We have all the equipment you need.
For your problems of incontinence we offer you a wide range of pads for small or larger leaks. We have models to wear during the day and others suitable to wear at night.
We work with the Molicare, Tena, Gohy, Conveen and Hollister brands.
Our orthotist also makes available to you commodes, toilet frames, pouches, sensors, toilet boosters, washable and disposable mattress protection, PVC and cotton vests and pants, disposable toilet gloves and wipes as well as chamber pots and bags.
We are there to advise you to choose the best protection according to your mobility, your age and your degree of incontinence in complete confidentially.