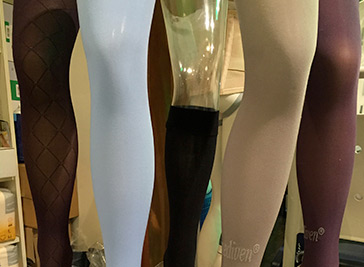 Do your legs hurt when you fly? Because you are pregnant? Do you suffer from heavy legs, swollen ankles? We can help you! With or without a prescription from your doctor.
Our orthotist can offer you a wide range of support stockings of 70-140-280D according to your size. We have patterned compression stockings in the following colours: flesh, brown, grey, black. We have compression stockings ranging from Class 1 to Class 4, knee- or thigh-high and as tights, also available in several colours (flesh, grey, black, blue, red, light blue, purple, mustard, etc.) with or without lace and that have closed or open feet.
We work with the Mediven, Sigvaris, Venotrain, Juzo, Tovarix and Venoflex brands.
Your measurements will be taken carefully and we will explain how to put on your compression stockings easily.
The fitting can be done on the spot in a dedicated room out of public view.
We also sell various items to help you put them on: stocking pullers in metal, parachute fabric, silk, etc.
We also have a specific range for arm and leg lymphatic oedema in several colours, sizes and strengths.
Lymphatic oedema stockings are refunded provided you have a prescription from your specialist.