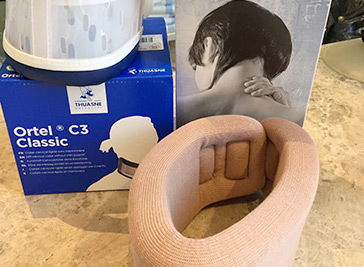 Are you suffering from a stiff neck, osteoarthritis in your neck bones, whiplash, a trapped nerve, etc.? We stock necks braces for large and small necks!
We offer flexible and rigid neck braces for all neck sizes ranging from 6 cm to 12 cm in beige or blue for children.
We measure the height of your neck as well as its circumference. You can try on your neck brace on the spot.
Rigid neck braces are refunded with a prescription from your rheumatologist, your orthopaedic surgeon or general surgeon.
We also have orthopaedic pillows of the Tempur brand, cherry stone neck cushions, spelt-filled cushions, spelt pillows and warming neck cushions.